good morning gallery 2021/22
Call for Applications
Application deadline: November 30, 2021
Exhibition period: December 2021 – April 2022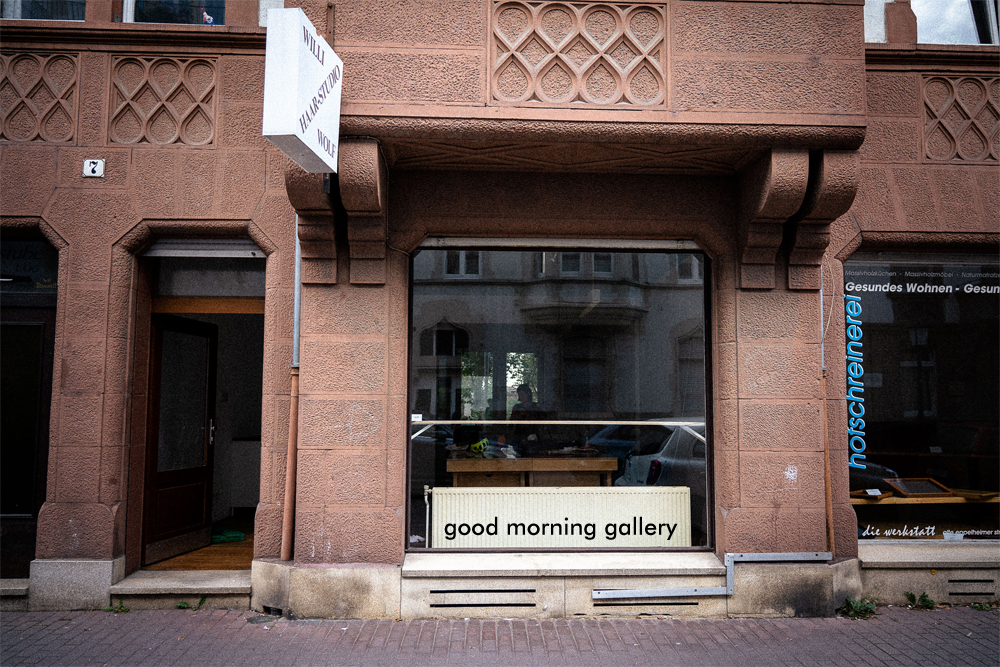 good morning gallery is a pop-up-gallery initiative by Kalamari Klub that supports artists and photographers during the ongoing COVID-19-pandemic by showing their work in a public shop window space. Functioning as a platform for emerging artists based in Heidelberg and elsewhere, good morning gallery will host a total of five shop window solo exhibitions for the duration of one month each from December 2021 until April 2022. Following the window exhibitions, a group show with all participating artists will take place inside the gallery space located in Heidelberg-Weststadt.
The call for applications is open to all visual artists and photographers working with photography and other media, such as video/film, painting, sculpture, installation, etc. Artworks must be presentable within the shop window space, dimensions of the window space are: 2,20 x 1,70 x 0,20 m; or 7,21 x 5,57 x 0,65 ft (width x height x depth).
In order to apply, please submit:
Application form

(page 3 only)
up to 5 images of your artwork/project, may include sketches and installation views
additional information regarding your work/project (optional)
a link to your portfolio or website (optional)
an artist statement (optional)
Please e-mail all your application documents in one zipped folder, labelled "goodmorning_lastname_firstname" to goodmorning@kalamariklub.org. If your .zip file exceeds 10MB, please provide a download link instead (Dropbox, WeTransfer, etc.). If you wish to submit additional physical material (prints, publications, work samples, etc.), please contact us in advance via goodmorning@kalamariklub.org. Applications are accepted via email until November 30, 2021, 23:59 CET.
Selection process
Application proposals will be selected based on unique artistic vision with a novel perspective and how well the artworks and concepts work within the shop window setting of the exhibition space. The selection will be done by members of Kalamari Klub.
Notifications
All artists will be notified of their status once the selection process is finished. Invited artists will be contacted individually to discuss details regarding handling, shipping and installation of the artwork.
Fees and production budget
Applications can be submitted free of charge, there are no fees included. Production budgets for all exhibitions will be discussed individually with invited artists. In addition, exhibiting artists will receive an artist stipend of 200,00 EUR each.
Additional notes
The aim of our work is to support artists and photographers locally, nationally & internationally. Selected artworks may be presented on our social media channels and our website. If you do not wish to have your work shown there, please indicate so. We will always give photo credits.
Health & safety information
Please note that we will take every precaution necessary, including health and safety measures for the protection of the people involved in this project. Dates and times of the exhibtion periods may be subject to change according to current regulations due to COVID-19.
If you have any questions, do not hesitate to contact us at goodmorning@kalamariklub.org.

good morning gallery is a project by Kalamari Klub, kindly supported by the Office of Cultural Affairs Heidelberg.

,