Community printing
26.04.2022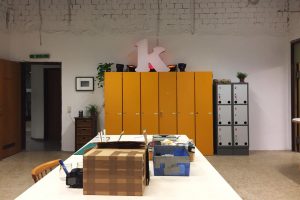 Meet & Print! Schon Erfahrung, aber noch nicht so sicher im Umgang mit der Dunkelkammer? Hin und wieder interessiert an Ratschlägen? Beim Meet & Print arbeitest du mit anderen Nutzer*innen plus mindestens einem Kalamari Klub-Mitglied zusammen in der Dunkelkammer, um gemeinsam Abzüge zu machen. Gedacht für alle, die schon entwickeln können, sich aber noch nicht ganz so sicher sind oder zusammen mit anderen Teilnehmenden über die eigenen Bilder diskutieren möchten.
Bitte beachten: Diese Veranstaltung ist kein Workshop und deswegen für Menschen ohne Dunkelkammer-Erfahrung nicht geeignet – hingegen für Menschen, die vorher einen Workshop gemacht haben, perfekt passend! 🙂
Insgesamt können maximal drei Menschen teilnehmen – einfach vorher eine kurze Anmeldung an dennis@kalamariklub.org schicken. Es entstehen keine zusätzlichen Kosten zur Dunkelkammermiete.
Meet & Print! Do you have some experience, but you are not completely sure how to use the darkroom? Are you interested in advice from time to time? At Meet & Print you will be doing prints together with other users of the darkroom – plus at least one Kalamari Klub member! There will be the possibility to discuss printing techniques and work together. Please note: This is not a workshop and, for that reason, not suitable for people without darkroom experience – however, if you just did a workshop and now you would like to continue doing some prints, this is meant for you! 🙂
A total of three people can participate. Register to dennis@kalamariklub.org. There is no additional cost to the darkroom rent.
Nächste Termine:

26.04.2022 ab 20 Uhr (3 spots left / 3 Plätze frei)
max. Teilnehmer*innen: 3

,